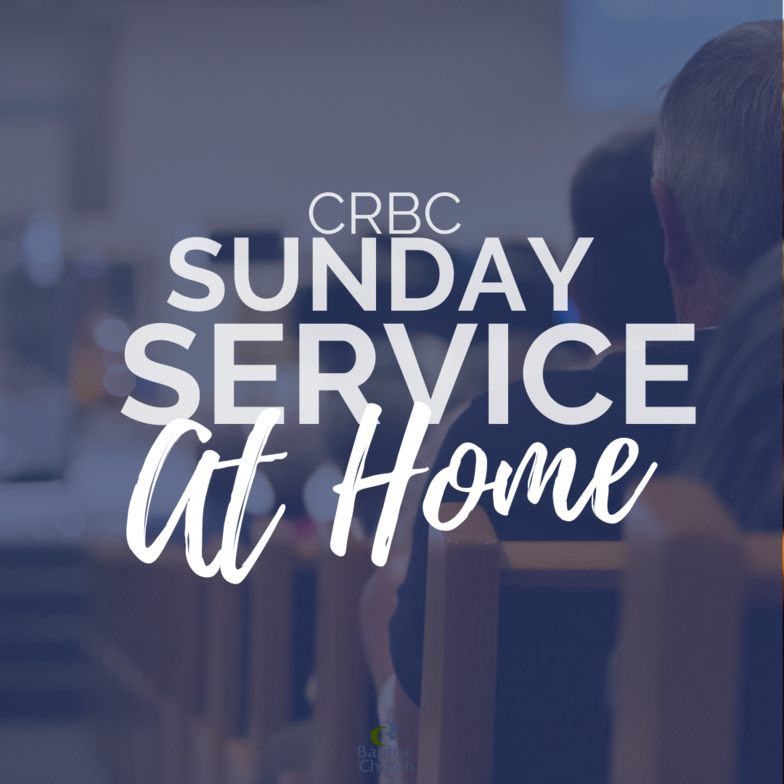 CRBC Sunday Service • March 15th, 2020
Welcome,
On behalf of the Staff, and Board at Campbell River Baptist Church, we would like to welcome you and thank you for connecting with us on this wonderful Sunday Morning!
You may have noticed there are a few differences this morning compared to a normal Sunday morning Church service here at CRBC. At this time, the staff and board are doing our best to respond to the Novel Coronavirus (COVID-19) in both a wise and responsible manner. As such, we are following the BC Health recommendations in regard to suspending large gatherings over 250 people.
For some important information on our response to the Novel Coronavirus (COVID-19) please read this news post. https://www.crbaptist.bc.ca/news/crbcs-response-to-novel-coronavirus-covid-19
Though our large gathering is canceled, Church is not canceled. You are the Church, we are the Church. Our worship of God is not confined by the walls of our building. We cannot give up gathering (Hebrews 10:23-25a), we cannot stop loving, we cannot stop giving, we cannot stop growing.
We have an opportunity to serve our faith community here in Campbell River and we want to provide you and your family with resources to stay connected to God's word and to each other during this time.
Please use this Order of Service as a springboard to start your time of worship this morning.
God Bless
Worship Songs
Offering links/ways to give
We are called to honor and worship God with all areas of our life. This includes resources such as our time and finances.
We would like to take the opportunity to point you towards some of our online giving options such as PushPay or our Mobile Giving.
The link to PushPay is: https://pushpay.com/g/crbaptist?src=hpp
You can also find a link on our website or on or YouVersion Bulletin
For Mobile Giving:Text crbaptist to 77977 to give instantly
Receive a 1-time reply with a link to give to CRBC. (Full Tems & Conditions at pushpay.com/privacy. For help: reply HELP or STOP)
Sermon
This week we have the privilege of hearing God's word, brought to us by Mike Mawhorter from our Fellowship Pacific office.
Mike has pastored in Fellowship churches for 38 years, at Fellowship Baptist, Markham ON; Central Fellowship Baptist in Prince George; and Ladner Baptist in Delta.
He is married to Kathy. They have four children and 20 grandchildren (and counting). In addition, Mike has received a BA in Business Administration from Cedarville University, his Master of Religious Education from Grand Rapids Theological Seminary, and his Doctor of Ministry from Trinity Western University.
Mike has been involved in the Fellowship both regionally and nationally in a variety of roles, and is thrilled to now be part of the Fellowship Ministry Centre staff on the Church Lifecycles Team.
Mike Mawhorter's sermon for this week can be found here on Vimeo: https://vimeo.com/397509201
Children's Ministry
Below is a list of children's resources that you can use to lead your family or small group gathering.
Bible Lesson:
https://ministry-to-children.com/faith-and-fear-bible-lesson/
Preschool Songs:
Elementary Songs:
Ideas to serve in your community
Over the next few weeks, we will want to be both proactive and creative in how we maintain our community while still being wise about our health. There are many people within our body of believers here at CRBC and many more in our community who may find it difficult to get the supplies they need, day in and day out.
We would like to help facilitate during this time and we ask that you call into or email the CRBC office and provide us your name and number if:
For a health-related reason, you are unable to leave your residence to go shopping or get the resources that your family needs
You are healthy and able to go shopping/run errands for someone in need
Benediction
"Let us hold tightly without wavering to the hope we affirm, for God can be trusted to keep his promise. 24 Let us think of ways to motivate one another to acts of love and good works. 25 And let us not neglect our meeting together, as some people do, but encourage one another, especially now that the day of his return is drawing near." Hebrew 10:23-25