STEVE BELL CONCERT
STEVE BELL CONCERT
Saturday, October 14, 2017

Important: This event has already occurred.

7:00PM - 9:00PM
DISCOVERY COMMUNITY CHURCH • 7 PM • $15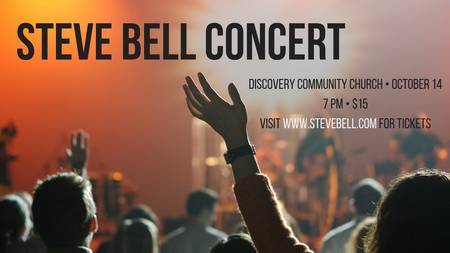 Steve Bell is a Canadian singer-songwriter and guitarist based in Winnipeg, Manitoba, Canada. He is among the best-known Christian musicians in Canada and is an accomplished songwriter and record producer.
This will be an evening of tunes and tales from the journey with Steve Bell. Tickets available at www.stevebell.com or in person at Discovery Community Church.
For phone orders call Signpost Music toll-free at 1-800-854-3499.
Return to Events
---